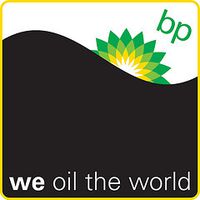 Elisez le meilleur logo anti BP

Coup d'envoi de la construction du nouveau navire amiral de Greenpeace, le Rainbow Warrior III, à Gdansk en Pologne. Votre mission : sensibilisez le grand public en l'encourageant à devenir adhérent de Greenpeace. Après avoir reçu une centaine de propositions créatives, Greenpeace Royaume-Uni vous propose d'élire le meilleur logo anti BP. (en anglais)

Lire la suite
A couple of months back, we asked you to Rebrand BP by designing a logo that better suits their dirty business ('Beyond Petroleum'? Or up to their necks in tar sands and deepwater drilling?)

To be honest, your response took us by surprise - not just in quantity (we've had well over 2000 entries), but in quality too. Orginally we were planning to ask a panel of designers to judge the entries, but because the response was so amazing we would also like you to pick a winner.

Vote for the new face of BP now »

As the entries flooded in, the news spread; Twitter has been aflame, sites like Adbusters and the Huffington Post took it up and the contest was reported in media all over the world, including in last week's Observer. Our Flickr pages - where the logos are hosted - have now had over two million visits.

You'll see that we've taken the liberty of shortlisting a number of logos under the Rebranded Logo category. The shortlisting of the designs was an incredibly difficult process and involved several people, lots of head scratching and a few sleepless nights. The shortlisted logos are some of the simplest, most eye-catching designs which instantly do the job of telling the world what BP is really about. We will use your choice from this category and the designer panel selection in our ongoing campaign against BP.

But because there was no way we could include all of the works of genius in our Rebranded Logo shortlist, we've added four extra categories to the competition, just for fun (you can vote for one image in each category):

Best Rebranded Logo »
Best Illustration »
Best Wildlife »
Best Slogan »
WTF?! »

The sixth and final category for best overall design will be judged by a panel of design experts. You can find out more about the shortlisting and prizes here.